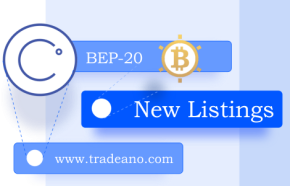 BEP-20 New Listing
BEP-20 Tokens New Listing process is started.

We welcome listing of new Tokens on our platform.

Official Trading of all new listed tokens will be starting from 15th July 2022 (UTC 9.30).

Currently, We will limit the listing process to limited amount of tokens.

Kindly join us on social media to get updated with all the announcement about platform and listing.

Thanks & Regards
Team, Tradeano.